EUR/USD maintains the upward trend but loses momentum
EUR/USD maintains the upward trend but loses momentum
In a period of low liquidity like the one we find because of the Christmas holidays, market fluctuations are exacerbated, which has led to further pronouncing the losses in the US dollar in the face of the search for risk and opportunities to generate a return.
The price of EUR/USD closed last week at 1.1188, the day that more points advanced since the beginning of August, approaching the maximum of the month of December at 1.1200. And during the Asian session the pair has not stopped rising, reaching 1.1211 and then placed around 1.1197 at the time of writing.
Daily 

EUR/USD chart

: 

upward trend with loss of momentum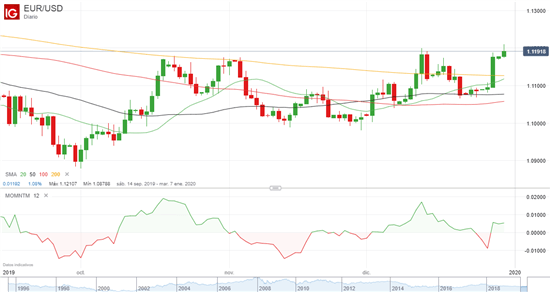 If we look at the daily chart we can see that the pair remains comfortably above the lines of moving averages, highlighting that the 20-DMA is 10 pips from crossing above the 200-DMA, which marks the longest trend, and indicates a consolidation of the upward trend.
Now, if we look at the momentum indicator we can see that the pair is losing strength in the ascent, which could bring some weakness in the short term, which has already begun to show after not having managed to keep the price above 1.1200.
The first point of resistance is found in 1.1198, where we have seen a rebound in the price during the morning, and once exceeded we look to overcome the psychological barrier of 1.1200 and the next point of resistance in 1.1205.
On the downside we look at 1.1175 as the first support point, followed by 1.1164, where we could see the pair fall below 1.1139.
5-minute EUR / USD chart: key strength and support points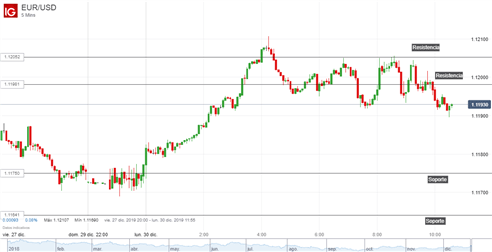 Before a week of scarce economic data, the movements in the pair are expected to continue conditioned by the search for volatility and risk after announcing that the United States and China will hold a ceremony to fix the first phase of the trade agreement.
Daily chart of the American dollar: it manages to stop the falls