According to the scope rating of June 2018, grundbesitz europa is one of the best open-ended real estate funds with a focus on Europe. With it, investors can easily invest in real estate from all over Europe.
In June 2018, grundbesitz europa was once again recognized by the rating agency Scope as one of the best open-ended real estate funds for private investors with a focus on Europe. The mutual fund again received the grade "a +" (AIF). The valuation of the real estate portfolio improved slightly compared to the previous year. In addition, "the fund's purchase policy, which is based on sectoral and geographical diversification as well as on different risk classes", is judged to be promising.
This is how grundbesitz europa invests
The fund is primarily active in EU countries and invests in real estate, but properties in other member states of the European Economic Area are also acquired. 30 properties from the fund's portfolio are located in Central and Northern Europe, 20 of them in Germany alone. The fund is represented in Western Europe with 29 properties, in Southern Europe there are still 8 properties.
(As of April 30, 2019)
The focus is primarily on commercial real estate that is used as an office, practice, retail space, warehouse or logistics center.

(As of April 30, 2019)
grundbesitz europa offers stable value growth and constant distributions
The RC share class of grundbesitz europa intended for private investors has recorded an average increase in value of 2.8 percent per year over the past five years. Measured since it was launched in October 1970, it has even been an average of 5.6 percent a year – or a total price increase of 1,307.9 percent.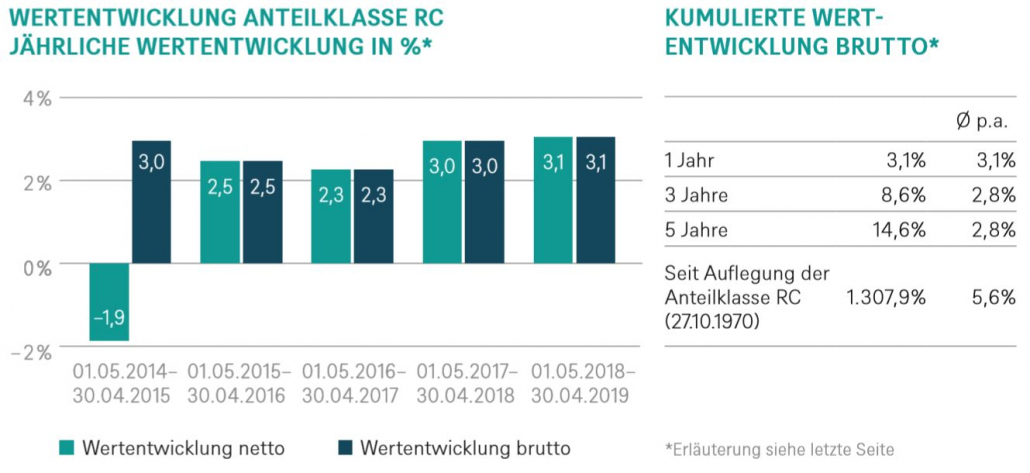 (As of April 30, 2019)
The fund distributes liquidity to its investors annually. In December 2017 that was the last 1.60 euros per fund unit. The broadly diversified property portfolio has already proven itself and also offers the best prospects for the future.
Here you will find important information on the risks and costs of the grundbesitz europa fund
Image sources: Deutsche Asset Management, DWS