Bitcoin had cumulative return over 100% in the year
Bitcoin had cumulative return over 100% in the year
Despite the recent fall in prices, Bitcoin had a cumulative return of 111% in the year, which shows that those who kept the currency "in their pockets" (held) used the right strategy.
After hitting nearly $ 14,000 on June 26 of that year , the digital currency entered a correction phase, which dropped the price by more than 50%. Bitcoin fell to $ 6,620 on November 25 . It has since traded below $ 7,500.
The high levels of volatility that the digital currency experienced throughout the year could have made it difficult to expect a perfect bullish, according to Skew , a company that provides data analysis on cryptocurrencies.
In early 2019 Bitcoin was trading at $ 3,400, today it is trading at $ 7,565. Who bought the digital currency at the beginning of the year and saved so far has a cumulative profit of 111%.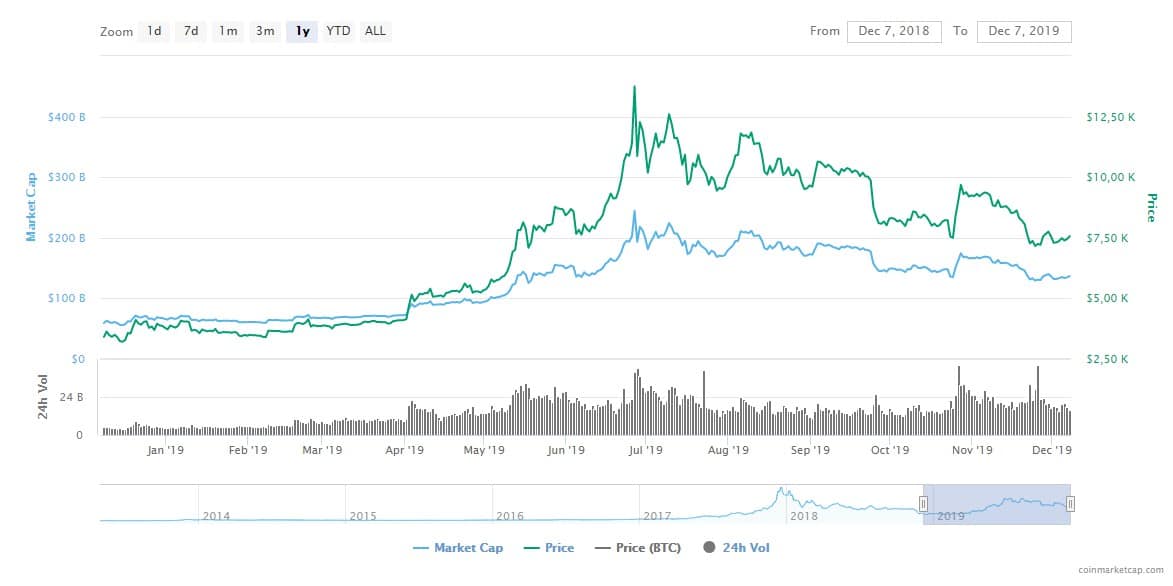 Bitcoin appreciated in 24 weeks of 2019
The company recently said in a tweet that bitcoin appreciated in 24 weeks from the 48 weeks of 2019. The digital currency literally went up 50% of the time and the other half down. The company contends that those who traded Bitcoin were in a "dangerous game".
Bitcoin is up exactly 50% of the weeks this year (24 out of 48) but also up 100% YtD 🧐

Timing trades is a dangerous game!

— skew (@skewdotcom) December 5, 2019
Investors who kept bitcoin in their portfolios throughout 2019 certainly made a profit. The 24 weeks Bitcoin valued represent a higher percentage of gains compared to the losses incurred when cryptocurrency dropped. Bitcoin had a cumulative return of 111% in the year.
Based on the 2-year moving average indicator ( MA ), Philip Swift, founder of Look Into Bitcoin, believes that there are five stages in each cycle of the Bitcoin market. They are created by periods when investors are "over excited" about digital currency, causing an excessive price increase. And other periods when investors are extremely "pessimistic" about cryptocurrency, causing prices to fall.
Sawcruhteez, financial analyst and trader said Bitcoin has returned to the first phase. This occurs when bitcoin moves below the 2-year moving average, which is considered the "accumulation" phase.
"Buying Bitcoin when the price falls below the 2-year moving average generates huge returns."
Swift, the creator of the 2-year moving average indicator, argues that: While the "accumulation" phase usually extends for a few weeks before a "high explosive" occurs, it appears that the "HODLers" (people who keep bitcoin stored) ) will soon see your earnings increase even more.
Now it remains to be seen when Bitcoin will move above the 2-year MA once again to enter the second stage of the market cycle, called Breakout.