In Crypto Trend We always try to tell you the latest developments in technology. Now we will tell you in 7 deliveries that is expected for the not-so-distant future, starting with the one leading the march. We refer to the proclaimed as the technology that leads the development: Artificial intelligence.
IA News
We decided to start with this issue of Artificial Intelligence (AI) because of the importance that the last decade has had in the world, which we have been able to observe with each of our articles.
Therefore, we begin by explaining the topicality of AI technology, using as a reference the survey conducted by PWC people. Which they summarized in the following image: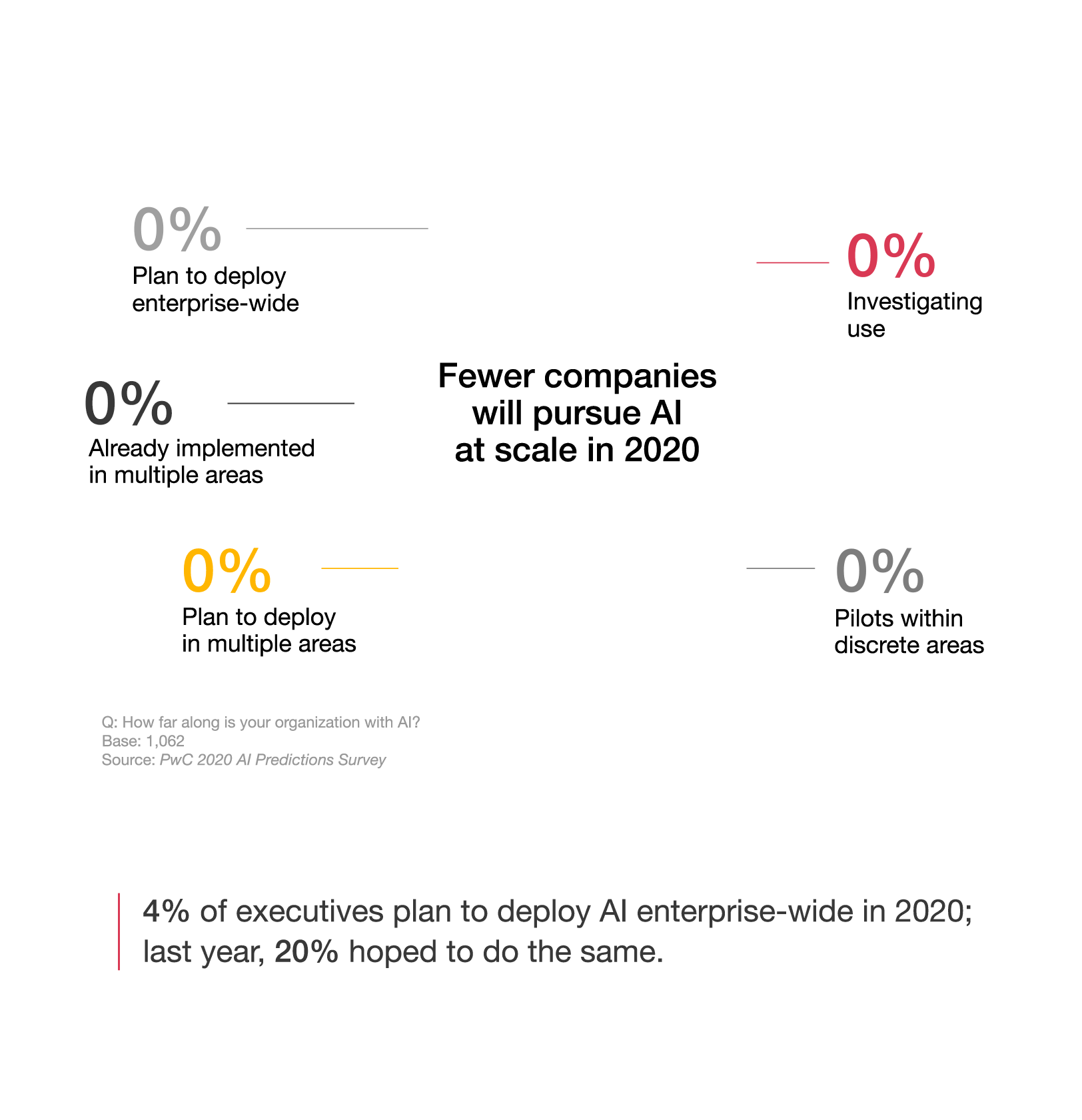 Noting that there was a reduction in the number of companies that will implement AI platforms in their structure, from 20% to 4%. However, it should be noted that a large number of companies performed this task in 2019, so the reduction makes sense.
In addition, it should be noted that 42% of the companies interviewed are interested in continuing investigations of AI platforms. This implies that more and more companies are added that want to improve their services when using this revolutionary technology.
It can be concluded then that during the year new and improved AI platforms will be announced, either for the company or for users.
2020 trends
With this idea in mind, we can proceed to analyze AI trends for this 2020, using Forbes professionals as support.
1 – Refine the companies
Starting with the idea we put forward at the beginning, stating that AI will become a fundamental part of companies. Highlighting that it will be used to improve and progress the workspace. In order to achieve this trend, it will be necessary to improve cooperation between people and AI.
If this goal is achieved, in this way everyday tasks can be performed more efficiently, allowing new goals to be achieved.
Among the tasks that can be improved, one that is necessary for technological progress stands out, being cybersecurity. With the help of AI, the protection and privacy of information can reach new seats. However, it must be remembered that there is an important opponent in this area, being Blockchain technology.
2 – New levels of customization
As we have seen, AIs are being used to create and design new ideas. From writing a 100% original article, to designing a new drug to cure humans.
In this way, if in 2019 we were able to meet such projects, 2020 promises to progress in the topic. Maybe we can watch a movie made 100% by an AI, or capable of a new theory that changes science as we know it.
Problems to overcome
However, we have exposed at the moment the positive face of the AI ​​platforms and their expectations for the future. But like every currency, it has a counterpart, being the obstacles that must be overcome.
Starting with the theme of the ethics behind each AI platform and the people who use it. With this we refer to cases where they let an AI make the final decision on a proposal. For example, use these platforms to filter people who apply for a job. In the end, this is a subjective issue that depends on the person who designed the AI, manifesting the biases it possesses.
Another important issue to consider is associated with this last idea, being the AI teaching and training. By this we mean that biases in AI can cause them to be incomplete, since they are limited by what their creator knows.
However, you can not leave the public free, remembering the cases of an AI that learned from Twitter comments. It only managed to work for an hour, since they knocked down the account for making racist, homophobic and anti-Semitic comments.
conclusion
Finally, we can observe that Artificial Intelligence is increasingly part of our lives. Once he was only an intelligent assistant on our phones, today they are our tools, tomorrow they will be our partners.
The following two tabs change content below.
I am an economics student, interested in innovation and technological development, always faithful that tomorrow will be a better day.
Related