California's FinTech Ripple continued to expand its interbank trading ecosystem and attract new partners. Some of them – above all MoneyGram – even explicitly use the ripple currency XRP. However, a look at the course of the latter prohibits speaking of a successful year for XRP. The digital asset performed significantly worse on the market than the other top 10 coins.
First quarter
Euro Exim Bank uses xCurrent
Bank Euro Exim announced in January that it would not only use Ripples xCurrent, but also want to develop it further. For example, the SWIFT-like xCurrent is intended to transmit more than just payment information. Furthermore, Euro Exim announced that it would also use XRP. The XRP course remained unimpressed.
Ripple critic receives death threats
Ryan Selkis, CEO of the Messari analysis company, would certainly have wished for such apathy on the part of the XRP Army. Selkis wrote a critical analysis of Ripple's XRP sales in late January. Specifically, he criticized the basis for the calculation, according to which Ripple determines the amount of XRP sales from his trust wallets. For this purpose, Ripple used trading volumes from Bitcoin exchanges, some of which came about through wash trading. The result is a market capitalization that is overstated by several billion US dollars. It was then Ryan Selkis by some XRP supporters threatened – more Swatting attempts have been made. Selkis has not been intimidated, however – he should have a critical voice over the course of the year.
JPM Coin – Competition for Ripple?
On Valentine's Day, U.S. banking giant JPMorgan announced another, let's call it, cryptocurrency launch. The JPMCoin is a stable coin that runs on a private blockchain and has a value of one US dollar. JPMorgan Chase wants to use it for transactions with its partner banks – some feared overpowering competition for Ripple. The JPMCoin should ultimately also provide an alternative for the transfer standard SWIFT.
Western Union is testing Ripple
The fact that Ripple wants to dominate international payment transactions has not ignored the established players in the industry. The payment service provider Western Union has also announced that it is also trying out ripple technology. True to the motto: If you can't beat them, team up with them.
Controversial XRP listing on Coinbase
The US Bitcoin exchange Coinbase added XRP to its trading offering at the end of February. The listing did not come without a certain "taste": The XRP price "pumped" even before the Coinbase announcement, it smelled of insider trading.
Binance wants xRapid integration
A message also came from the now Maltese industry leader Binance, which delighted XRP fans. Stock exchange chief Changpeng Zhao revealed in a Q&A that Binance xRapid (ODL) wanted to "definitely" integrate. Little has happened on this front since then.
Second quarter
NASDAQ tracks XRP course
At the end of April, XRP joined the ranks of cryptocurrencies that are listed on the US stock exchange NASDAQ. This enables the largest electronic securities exchange in the USA to cooperate with the crypto tracking company Brave New Coin.
XRP arrives in New York
New York XRPs have also been allowed to buy on Coinbase since May 13: The Bitcoin exchange has received the coveted New York BitLicence. The XRP course awoke at that time out of his lethargy and could – in conjunction with a general upturn in the crypto market – growth in the double-digit percentage won. While XRP was still around $ 0.32 on May 13, it shot to a preliminary annual high of $ 0.46 after the Coinbase announcement. After the mandatory correction, the next growth spurt should follow in June.
Ripple announces partnership with MoneyGram – XRP in action
In order for Ripple to be able to reach its goal of making XRP the "standard" of international payments at some point, the company needs partners who are willing to experiment. So far, so truely. With Moneygram, Ripple was able to land a big fish in June. With a $ 50 million deal, Ripple "won" the transfer agency's strategic partnership. In contrast to most of the roughly 300 ripple cooperations, this is explicitly about the use of XRP as a bridge currency. The XRP should then reach its highest level in 2019 on June 22 – five days after the moneygram deal was announced – at just under $ 0.47.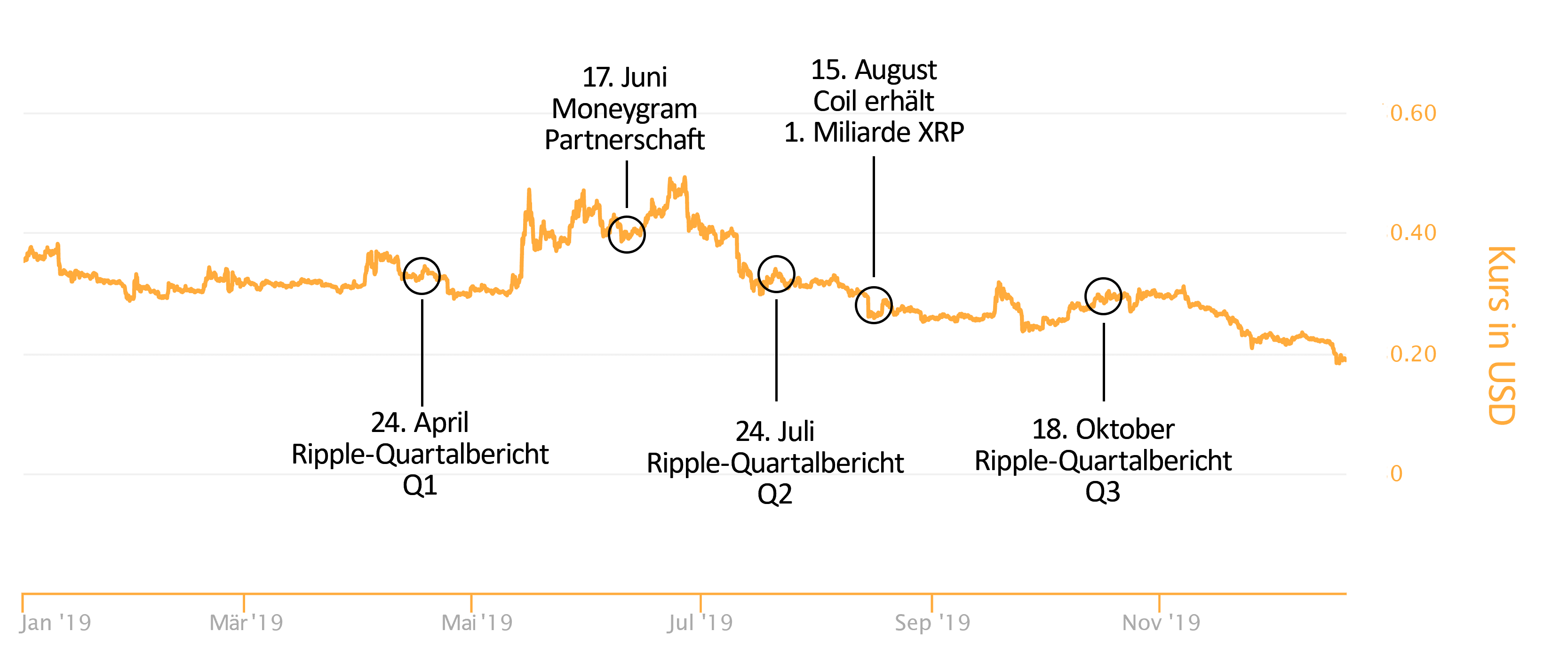 Third quarter
Ripple CEO Garlinghouse demands sensible crypto laws
Speaking at a U.S. Congress session on crypto regulation, Ripple CEO Brad Garlinghouse sent an open letter to Congress asking for clear and differentiated regulations for crypto and blockchain companies. Without such innovations would be ousted and US companies would migrate abroad.
Petition against XRP dumping
The fact that Ripple still holds around half of all XRP in trust wallets is also a thorn in the side of parts of the XRP Army. There are always allegations that the company keeps the XRP price artificially low through its regular sales. In August, the Twitterati Crypto Bitlord launched a petition to protest the alleged XRP dumping. Ripple had already announced two weeks earlier that it would now pursue a more conservative strategy for XRP sales.
Ripple supports Coil with one billion XRP
While XRP is intended to serve as a bridge currency for international payments, Ripple is increasingly expanding its focus on the area of ​​micropayments. Against this background, the violent financial injection that Ripple gave to the crypto start-up coil in August can be seen. The platform for monetizing online content received one billion XRP from Ripple – at that time around $ 260 million.
Ripple: Bullisher market report published, XRP price rises
In the market report for the second quarter of 2019, Ripple confirms that it plans to sell less XRP in the future. In its quarterly report, FinTech also speaks of a growing number of institutional customers. The XRP course thanked it with gentle increases.
Fourth Quarter
Xpring is said to make Ripple's XRP the Internet currency
In October, Ripple announced the "new evolution" of its investment arm Xpring: From now on, Xpring should also be the name of a developer platform. This should serve the development of XRP-capable applications. The new Xpring Developer Kit (XDK) is designed to integrate XRP and the Interledger protocol (ILP) into apps. In this way, XRP is to pave the way for the Internet currency. This step also shows that XRP should also play a role outside of the transfer market.
$ 400 million illegal XRP deal discovered
A study by the risk analysis company Ellipitc has shown that he is already doing this, albeit illegally. After that, XRP could be linked to criminal activities such as money laundering or theft , valued at around $ 400 million . After all, this corresponded to only 0.2 percent of all transactions on the XRP Ledger.
Ripple: Charity Foundation for Tax Tricks? Co-founder Chris Larsen responds
Ryan Selkies reports back. The Messari CEO took the publication of the Elliptic Report as an opportunity to criticize Ripple again violently. Selkies Ripple, for example, accuses the Rippleworks charitable foundation of using his tax return rather than social projects. Ripple co-founder Chris Larsen firmly denies the allegations.
Ripple completes moneygram investment
In November, the remaining $ 20 million went to Moneygram . Ripple now holds almost ten percent of the company's shares. According to Moneygram, it plans to set up additional payment channels using XRP, including in Europe and Australia.