Twitter's very foundations are shaking today. After a massive attack was carried out against various celebrities and organizations inside and outside the crypto world, gaining access to their accounts in an attempt to scam Bitcoins from crypto users. However, after only a few hours have passed, we wonder who is really behind the attack on Twitter?
The facts of the attack
Assigning responsibilities after a cyber attack is an extremely complicated activity. Well, in most cases hackers have sophisticated enough means to hide their identity. Therefore, on very few occasions it can be known whether governments or criminal organizations are behind an attack.
Therefore, to try to make sense of today's cyber attack, we must begin by analyzing the facts. And, the attack directed against various celebrity accounts on Twitter was not limited to personalities from politics or finance such as Bill Gates, Elon Musk and Barack Obama. Rather, it affected dozens of accounts of influencers and organizations in the crypto world.
Thus, crypto influencers like Justin Sun or Changpeng Zhao, and companies like Binance, Coinbase and Ripple saw their Twitter accounts hacked earlier today. Precisely one of the elements that leads to questioning the mechanism used by the attackers. Well, we must remember that these figures of the crypto world are also several of the individuals and organizations most concerned about their security on the Internet.
For this reason, the idea of ​​a massive attack on so many accounts simultaneously, leads experts to question whether the security of individual Twitter accounts was really violated. Or if, on the contrary, the attack was directed and managed to penetrate the security of the infrastructure of the social network. Gaining access to its database, and therefore to user data.
Who can hack Twitter?
In fact, information released by the specialized portal Vice, reveals that in recent hours, some Twitter users have been posting images of what appears to be the control panel used by the social network.
And although they have been removed from the platform, and the accounts that tweeted them have been suspended. These seem to demonstrate that the attack was indeed carried out against Twitter's infrastructure.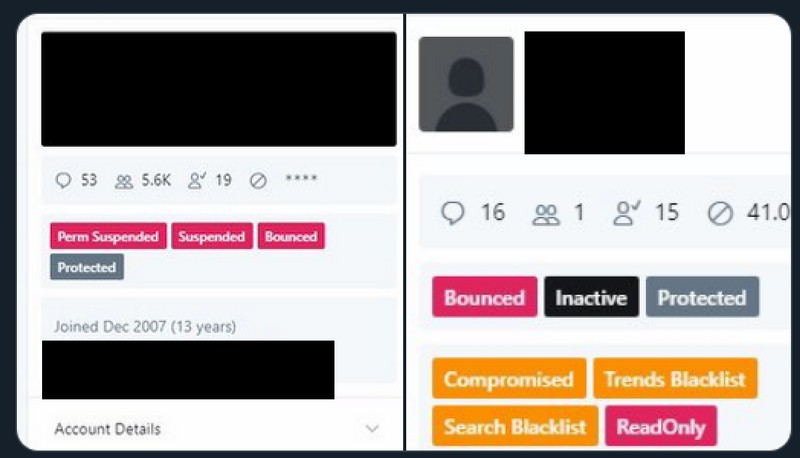 This leads us to establish two key questions to understand who could be behind the attack. First of all, who has the resources to attack Twitter? And, let's remember that the social network is one of the most important technology companies in the world. Therefore, although its size does not compare to that of giants like Google and Facebook, it does dedicate immense resources to guarantee its cybersecurity.
Thus, it is likely that there are few institutions in the world, beyond banking and military organizations, with a level of security on their servers equivalent to that of companies like Twitter. So while a breach in security is not impossible, it is certainly hard enough to believe that any criminal organization has the capabilities to threaten Twitter's infrastructure easily.
And even more strange is that this access to the Twitter database is used to carry out a simple scam. Also threatening accounts such as those of President Obama or Amazon CEO Jeff Bezos, which will attract a large amount of media attention, reducing the effectiveness of the scam. As it actually happened, less than $ 200,000 was raised, thanks to media coverage that put crypto users on alert.
Why Bitcoin?
However, the second key question raises even more suspicions about the attack: Why use Bitcoin to carry it out? Well, although many users could answer that the cause is the popularity of the cryptocurrency, allowing more victims to send money to scammers. This hypothesis is quite difficult to believe.
And is that, if the scammers planned to carry out an attack of this magnitude, targeting the accounts of users such as Elon Musk and Kanye West. There is no point in using a cryptocurrency like Bitcoin, which does not guarantee the absolute privacy of its users.
Well, any intelligence body with sufficient training (and we are sure that organizations like the CIA and NSA have this training), can identify the users behind a BTC address.
Therefore, it would make much more sense to carry out a smaller-scale attack with Bitcoin, focused on the crypto community only. Or one on a larger scale using much more private coins like Monero, which would guarantee the anonymity of cybercriminals. Before using a virtual currency as transparent as BTC.
So who attacked Twitter?
Given all this information, we believe that another type of suspect beyond cybercriminals should be considered responsible for the attack. We refer, of course, to governments with cybersecurity capabilities large enough to carry out an operation of this magnitude.
And it is that, as has been shown in recent years, governments around the world have developed and used large cyber armies to advance their national interests. Whether through industrial or military espionage, attacks on servers in rival countries, or media manipulation with the spread of Fake News. In our modern societies, the States possess the greatest attack capabilities in the virtual world.
Therefore, it does not seem crazy to consider that the attack on Twitter has been directed by the government of a rival country to the United States. In search of obtaining information from users, or simply generating mistrust towards the social network just a few months after the US presidential election.
Thus, although at the end of the day assigning blame after a cyber attack is a delicate process. And in this respect we do not dare to point out those responsible, but only to pose probable hypotheses. We believe that the possibility of an interstate confrontation is worth considering as an explanation for today's attack.
Related news