Trading ideas for the week: Long EUR/USD and USD/MXN, short NZD/USD
Trading ideas for the week: Long EUR/USD and USD/MXN, short NZD/USD
EUR / USD TECHNICAL ANALYSIS
In the daily chart of the EUR/USD (euro-US dollar) it can be seen that the pair confirmed a key support at 1.1100 last week, psychological level where the Fibonacci retracement of 38.2% of the rise from October to December converges from 2019.
In the case of a pull-back in the next sessions, this price region can be used as an entry point for long positions, in anticipation of a possible rebound. In this context, an interesting trading idea involves the placement of longs in the 1,100, with a profit target in the 1,11220 (resistance given by a long-term downward trend line) and a stop loss in the 1,1060 (retracement of 50% Fibonacci and lower guideline of a short term bullish channel).
TECHNICAL GRAPH OF EUR/USD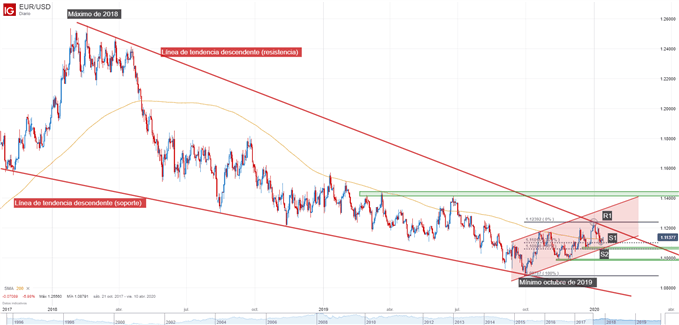 USD/MXN TECHNICAL ANALYSIS
In the USD / MXN daily chart it can be distinguished that the pair has tested the 18.75 zone on numerous occasions in the last 12 months, but that it has not been able to decisively break it before the reappearance of the buyers, a sign of the presence of a strong support. This makes buying positions at 18.75 quite attractive. A possible strategy contemplates the execution of lengths at 18.75, with a goal at 19.00 and a stop loss at 18.50.
USD/MXN TECHNICAL GRAPH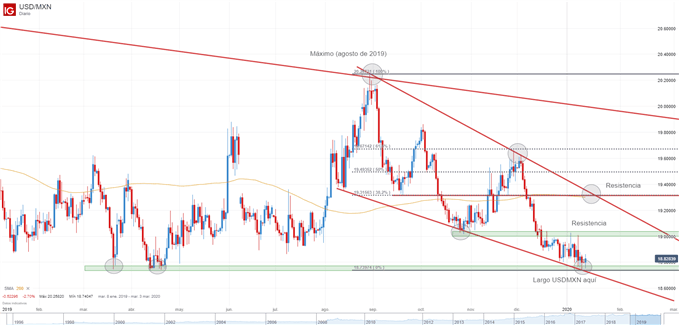 NZD/USD TECHNICAL ANALYSIS
In the weekly chart of NZD/USD (New Zealand dollar – US dollar) it can be seen that the price is a short distance from a zone of confluence of resistances of crucial importance close to 0.6715. In this region, the Fibonacci retracement of 38.2% of the fall from July 2017 to September 2019 and a long-term bearish guideline extended from July 2014 are aligned.
A strategy involves establishing shorts at 0.6715, with a possible target at 0.6500 (minimum area in May and June 2019) and a stop loss at 0.6790 (maximum July 2019).
NZD/USD TECHNICAL GRAPH